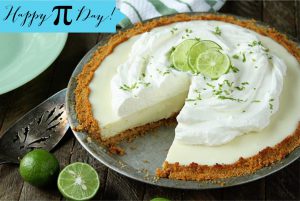 Happy Pi Day! The Florida Keys is known for its World Famous Key Lime Pie's! Let us "Key" you into some of our agents favorite local eatery's to get a delicious slice or whole Key Lime Pie in the Upper Keys!
• Lazy Days in Islamorada (MM 79.9)
-The key lime pies are all made on the property, serving a huge slice with graham cracker crust topped with creamy, sweet, filling and medium tartness. It makes an ideal desert after fresh seafood.
• Green Turtle Inn in Islamorada (MM 81.2)
-This one has a special crust made with macadamia nuts and rice to hold the sweet-tart filling and dollop of whipped cream, berry syrup, and side of strawberries.
• Marker 88 in Tavernier (MM 88)
– This Pie is the perfect mixture between tart and sweet and is topped with a very large and delicious amount of meringue
• Blonde Giraffe Key Lime Pie Factory in Tavernier (MM 92.2)
-Featured in magazines like Southern Living and Coastal Living, the key lime pies at Blond Giraffe Key Lime Pie Factory in Tavernier are worth sampling.
• Mrs. Macs Kitchen in Key Largo (MM 99.4)
-This Key Lime Pie has a creamy, cold & tangy sweet flavor and is in a freshly made graham cracker crust. Topped with whipped topping. They also serve a popular key lime freeze, which is a secret recipe and milkshake-like drink that is great for beating the heat.
• The Fish House in Key Largo (MM 102.4)
-This delicious slice of key lime pie boasts a light and tangy filling, but it's the meringue that makes this dessert a winner and is torched to a beautiful caramel brown!